30 Night Los Angeles To Sydney Pacific Pizzazz Cruise
on Insignia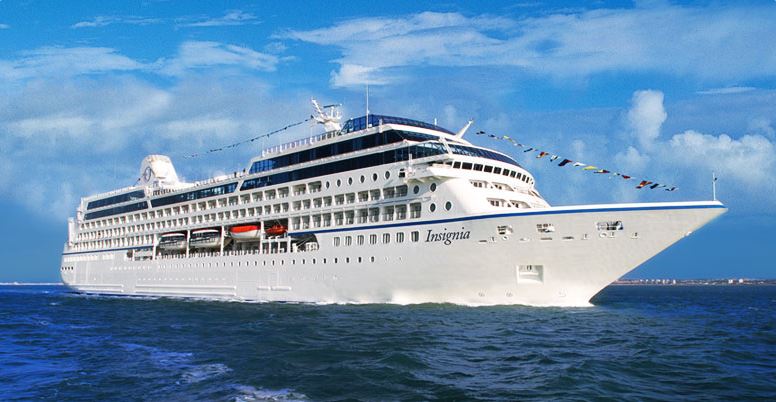 Our acclaimed
Insignia
has undergone a multimillion-dollar transformation to create a virtually new ship that is both sleek and elegantly charming. Her decks are resplendent in the finest teak, custom stone and tile work, and her lounges, suites and staterooms boast luxurious, neo-classical furnishings.
Insignia
offers every luxury you may expect on board one of our stylish ships. She features four unique, open-seating restaurants, a world-class fitness center and spa, eight
...

Formed in 2002 by luxury cruise industry veterans Frank Del Rio, Joe Watters and Bob Binder, Oceania Cruises is the world's largest upper premium cruise line. The Finest Cuisine at Sea
™
, Destination Specialists and Intimate & Luxurious Ships are the pillars that define Oceania Cruises' five-star product, positioning the line as the cruise company of choice for travelers seeking a truly refined and casually elegant travel experience.
Featuring a fleet of warm and luxurious ship
/p>
...
Cat. G, OLife: Amenities, airfare from select gateways
| Day | Port | Arrive | Depart |
| --- | --- | --- | --- |
| 1 | Los Angeles | | 6:00 PM |
| 2 | Cruising The Pacific Ocean | | |
| 3 | Cruising The Pacific Ocean | | |
| 4 | Cruising The Pacific Ocean | | |
| 5 | Cruising The Pacific Ocean | | |
| 6 | Cruising The Pacific Ocean | | |
| 7 | Nawiliwili | 8:00 AM | 6:00 PM |
| 8 | Honolulu | 7:00 AM | 7:00 PM |
| 9 | Hilo | 8:00 AM | 5:00 PM |
| 10 | Cruising The Pacific Ocean | | |
| 11 | Cruising The Pacific Ocean | | |
| 12 | Cruising The Pacific Ocean | | |
| 13 | Cruising The Pacific Ocean | | |
| 14 | Nuku Hiva | 8:00 AM | 4:00 PM |
| 15 | Cruising The South Pacific | | |
| 16 | Papeete (Tahiti) | 12:00 PM | 11:00 PM |
| 17 | Bora Bora | 10:00 AM | |
| 18 | Bora Bora | | 4:00 PM |
| 19 | Cruising The South Pacific | | |
| 20 | Cruising The South Pacific | | |
| 21 | Pago Pago | 8:00 AM | 5:00 PM |
| 22 | Int'l Date Line West | | |
| 23 | Cruising The South Pacific | | |
| 24 | Suva | 9:00 AM | 6:00 PM |
| 25 | Cruising The South Pacific | | |
| 26 | Cruising The South Pacific | | |
| 27 | Bay Of Islands | 8:00 AM | 6:00 PM |
| 28 | Auckland | 8:00 AM | 7:00 PM |
| 29 | Cruising The Tasman Sea | | |
| 30 | Cruising The Tasman Sea | | |
| 31 | Cruising The Tasman Sea | | |
| 32 | Sydney | 7:00 AM | |